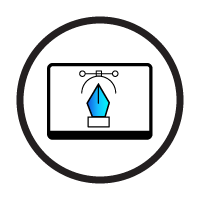 I have always believed that Web is the most powerful means of communication in the world. It is the tool through which we can build relationships, spread knowledge, find solutions, learn, travel. It allows us to be free to dream , express and implement our ideas. We can be free to do, free to live the life we ​​desire .
Thanks to the Web and Technology I understood what my mission was: to make things beautiful and usable , and was my intention to do it every day of my life alongside with extraordinary team of people .
I wanted to translate, design and create concepts and ideas in the digital world using innovative tools and techniques in order to help companies and people to take control of their future and business success.
My goal was to combine Web and Graphics in my daily life and I have been doing it with passion for more than 15 years.

I recommend Elisa as a creative because of her work, as well as her inspired and highly driven energy, with clear goals and objectives in regards to the organisation she wants to join. With solid global communication skills and a strong commitment to her passion, she would be a great asset for any digital agency in Australia (or internationally) looking for a motivated team member.

Elisa is a Senior Professional with excellent technical and communication skills and the teams she has been part of were happy while working with her. She has achieved important success while working on several assignments for our customers. I strongly recommend to hire Elisa as a professional in Web & Graphic Design projects.